Combination Drills - Counter Sinks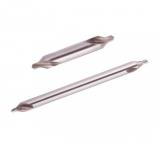 This convenient tool combines the drilling and countersinking of a hole in one operation. The advantage is assurance of alignment of both sections of the process.
The plain type combination drill & countersink produces a seat or bearing surface for subsequent machining operations. It's the most commonly used and produces a 60 degree angle satisfactory for turning or grinding.
More on this Product
Distributors Order Online
These "radius" combination drills and countersinks are designed to reduce the bearing surface of the center hole and provide a protected centering seat while reducing the risk of breakage.

More on this Product
Distributors Order Online