High Speed Steel End Mills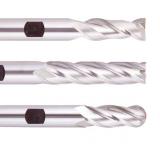 Many configurations of single end and double end HSS end mills with a variety of flute configurations are available. High speed steel tooling is an economical product used in many machine tools not equipped with the latest technologies.
Three flutes offer more chip capacity than multi-fluted tools and the third cutting edge offers heavier feed rates than two flute tools.