Aircraft Drills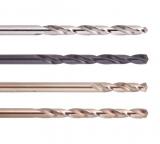 For sixty years Regal has provided the aircraft and aerospace industries aircraft drill bits for use in portable and fixtured  drilling. Our drill bits conform to the National Aerospace Standards (NAS 907) made from high quality high speed and cobalt steel and pass our rigid quality control process. We provide all styles including  jobber, screw machine and six and twelve inch extension drills.  Types "A", "B" "J", "D" jobbers drills, and "C" and "F" screw machine length as well as six and twelve inch extension drills are inventoried in large quantities to meet the needs of production.  We supply to airframe, engine and assembly plants as well as maintenance facilities around the world.
In addition to our complete line of NAS 907 standard aircraft drill bits, we manufacture, using state of the art technology, a wide array of special application tooling including  Drivematic, Spacematic and nutplate drill countersinks  to exacting standards of quality and workmanship.
New composite materials used now extensively in aerospace and aircraft can be drilled in portable applications with our new  Super Tuf particle metal drills with multi-layered coating.  The steel body is more resilient and cost effective than carbide  and with advanced design and coating our aircraft drills  assure holes to size with no breakout issues.