Multi-Purpose Carbide End Mills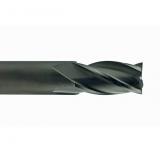 Manufactured from micro-grain carbide in a variety of design combinations, these tools address the majority of machining operations in a wide variety of materials. Precise cutting dimensions in square, ball end, and corner radius styles will meet the needs of cost conscious metalworking customers. Both inch and metric dimension end mills in 2, 3, 4 and five 5 flute configurations, in both standard and high helix will easily achieve the machining requirements of CNC operations. Regal's Multi-Purpose carbide end mills will provide both satisfactory surface finish and meet productivity expectations, when contouring, plunging or slotting.
These uncoated multi-purpose carbide end mills are manufactured for the majority of machining operations in various materials, to achieve exceptional surface finish at high production rates. If required, a custom radius or coating of choice can be added to further enhance performance.