Cobalt Drill Bits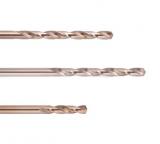 Regal cobalt drill bits are made from premium cobalt steel to provide superior hardness and are very resistant to abrasion. Regal premium cobalt drills give you longer tool life than ordinary cobalt drills reducing the cost per hole drilled.  These cobalt drill bits are designed for drilling tough and abrasive materials, high temperature alloys and stainless and heat treated high strength steels. Regal cobalt drill bits give you the lowest cost per hole drilled.
With over 100 years of drill making experience Regal has perfected the design giving you the best point for optimum penetration and flute geometry assuring constant chip ejection. Our stringent quality control and heat treating methods insure the performance our quality cobalt drill bits.
Regal cobalt drills are available in fraction, letter and letter sizes, and we can also provide for you special cobalt drill bits to meet your specifications.
See all of the cobalt drills that Regal has available:
Machine Length Cobalt Drills
Jobber Length Cobalt Drills
Extension Length Cobalt Drills