Silver & Deming Drills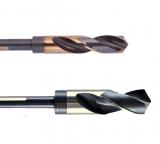 Reduced shank on drill diameters to 1 ½" offers flexibility in using various drilling equipment. ½" shank on all sizes of S & D drills gives users the ability to use one size holder for various drill diameters. Three distinct styles are offered.
Three flats are provided on the shank of these drills to assist in centralizing the drill in a chuck. The surface finish in the flutes assists in chip removal and adds life to the drill.
More on this Product
Distributors Order Online