Carbide End Mills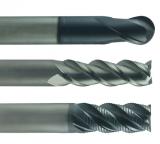 Regal Cutting Tools produces a complete line of carbide and solid carbide end mills manufactured from ultra-micro grain carbide that improves hardness while maintaining toughness.
Regal's Carbide Mills Come in a Variety of Specifications:
Multi-Purpose solid carbide end mills are designed for the majority of machining operations in a wide variety of materials to achieve the desired surface finish.
Triple Crown carbide end mills are ideal for high production and difficult machining operations.  Engineered geometries and advanced coatings insure cost effective production.  Tool styles are designed with cutting dimensions to suit various purposes for greater flexibility of choice.
Variable helix special flute geometry tools are available in a variety of styles to eliminate vibration at higher speeds.
Alu-Mill carbide tools are specifically designed for production machining of aluminum.  The three flute design with a cylindrical margin allows for harmonic balance while achieving maximum stock removal rates.
Carbide roughing end mills offer a unique geometry to achieve high feed rates and heavy duty milling.
Regal uses closely controlled micrograin and nanograin carbide to achieve tool toughness. Our distinct product groups will meet or exceed the expectations of the application specific customer.
Learn More About Regal's Carbide End Mills:
Industries that Regal's Carbide End Mills Serve:

Check out the latest articles from Regal regarding Carbide End Mills:

Download the Catalog: