Carbide Taps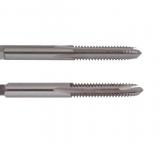 The selection of carbide taps for high volume production was limited to materials such as brass, bronze and high silicon aluminum where abrasion was the cause of tool wear. The design required strength behind the cutting edge limiting the flute geometry and range of materials to be tapped.
Regal's carbide and carbo-clad taps are made from ultra fine-grain carbide with a high cobalt-content binder.  This allows us to design taps with high shear cutting edges when needed to thread hard metal, Inconel and other materials.  The combination of the sophisticated carbide grades with advanced multi-layered coatings is suitable for tapping at high speeds and ensuring unsurpassed productivity.
Regal offers solid carbide taps up to 3/8" from our catalog, and  above that size brazes carbide blades to HSS bodies up to 1 ½". NPT and NPTF pipes sizes are available as well.  As is always the case, special taps to meet your specifications are made and coated in less than two weeks.