Spiral Point Taps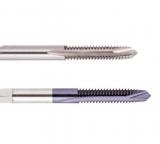 Spiral point taps are frequently called "gun taps" because they shoot the chips cut by the angular cutting edge forward.  This style is the most efficient and cost effective when tapping a through hole.  The two and three flute styles of spiral point tap allow effective chip evacuation and produce clean threads under normal production conditions.
Regal's general purpose design provides both a cutting action and solid construction to ensure long life in steel, aluminum, brass and other materials.  Sizes up to ¾"or 20 millimeters are standard and special spiral point taps can be made up to 1" or 24 millimeters in 24 hours. AlTiN coated spiral point taps are available for our inventory as well.
Super Tuf material specific spiral point taps are a new item, made in the USA in both imperial and metric sizes. In the tradition of Regal's 24 hour program special taps made from high performance material and designed for specific material applications are available in ten days or less dependent on the coating required.